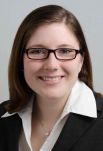 Dipl.-Ing. Ariane Bisten
Postanschrift: Kaiserstr. 12
Liefer- und Besucheranschrift: Gotthard-Franz-Straße 3
Geb. 50.31, 4. OG
D-76131 Karlsruhe
About me
Starting my studies of chemical engineering in 2007 gave me the possibility to live in the beautiful city of Karlsruhe. After my student research project at the Engler-Bunte-Institute I decided to get my majors in combustion technology and mechanical process engineering. I did my diploma thesis at the Institute for Mechanical Process Engineering and Mechanics, Process Machines and finished my studies in 2013. Before that, I enjoyed for half a year the British way of life and worked as a trainee at GlaxoSmithKline. Currently I work as a research assistant at the Institute of Process Engineering in Life Science, Section I: Food Process Engineering with the focus on high-pressure homogenization.
Research focus
At the moment I am looking into the velocity profiles of orifices, which are used in the high-pressure homogenization. Here I want to examine the influence of geometries and process parameters on local process conditions during homogenization. Characterization of turbulence and cavitations and their influence on droplets or reactions locally and spatially is a particular challenge in my work.
Equipment
For experimental visualization of the flow conditions in the orifices a µPIV (Micro-Particle Image Velocimetry) from Dantec is used. The microscope which is part of the experimental set-up is from Leicra and the orifices are especially designed at our Institute for this purpose. In addition, I have excess to many analysis methods for the characterization of droplets collectives and emulsions. Therefore I can analyze droplet size distribution, flow and interface behavior of the used systems in detail.