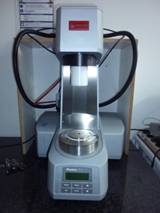 Rheometer MCR 301 & 101
Manufacturer:

Anton Paar

Contact:
Description:

The device is used for rheological characterization of various substances. Both tension and creep tests can be performed. Furthermore, oscillatory and rotational measurements can be performed.

There are different measuring geometries for the characterization of low and high viscous fluids as well as emulsions and suspensions. In addition, there is a device for DMTA analysis and a measuring cell (biconus) for the characterization of interfaces.