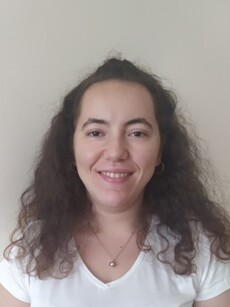 M.Sc. Ülkü Ertugrul
Postanschrift: Kaiserstr. 12
Liefer- und Besucheranschrift: Gotthard-Franz-Straße 3
Geb. 50.31, 4. OG
D-76131 Karlsruhe
About myself
My curiosity and experimental nature are what have drawn me to food science at a very young age. I completed my bachelor's degree in Food Engineering in June 2017 and my minor program in Chemistry in January 2018 at Middle East Technical University. During this time, I gained some theoretical and practical experiences. My desire for food education led me to pursue a master's degree in Food Engineering with a thesis topic of "Improvement of Pea Proteins' Properties by Microwave Glycation". During my master's studies, I had the chance to gain further experience in plant protein characterization, protein encapsulation, nonenzymatic browning reactions, hydration behavior of hydrocolloids and sugars and time-domain nuclear magnetic resonance (TD-NMR) relaxometry. After my master's, I decided to widen my horizon by combining my previous studies with a new perspective in Food Process Engineering.
Research Focus
In today's world, the demand for plant protein is growing due to concerns for the animals' well-being, dietary restrictions such as vegan or vegetarian, health or environmental issues and cultural preferences. Therefore, there is an effort to produce alternatives to meat and meat products as well as dairy products from alternative protein sources, mainly plant proteins. Among available technologies, extrusion, a widely used method to produce several food formulations, can be used to modify the physical and chemical properties of plant proteins since the unique conditions of the process allow for the modification of the structure and properties of plant proteins at molecular, microscopic as well as at macroscopic level. Nevertheless, the knowledge underlying protein-polysaccharide interactions during extrusion processing is still somewhat limited. Therefore, the main objective of my studies will be the characterization, functionalization, and texturization of plant protein-polysaccharide blends during extrusion processing.
Methods
The reaction behavior of chemically characterized plant protein-polysaccharide blends will be investigated by a closed cavity rheometer (CCR) under conditions relevant to the extrusion of meat alternatives. The extrusion trials will also be held on via a co-rotating twin-screw extruder. The effect of processing conditions, polysaccharide and plant protein type and the amount on the technofunctional and rheological properties of the extruded blends will be evaluated.