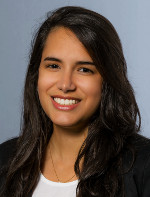 M.Sc. Martha Taboada
Postanschrift: Kaiserstr. 12
Liefer- und Besucheranschrift: Gotthard-Franz-Straße 3
Geb. 50.31, 4. OG
D-76131 Karlsruhe
About me
I come originally from Colombia, where I graduated with a Bachelor's degree in Chemical Engineering from the Universidad de Los Andes. After an exchange semester in Germany I decided to do my Master in Bio- and Chemical Engineering at the TUHH in Hamburg. During my master's degree I worked as a working student at Beiersdorf AG, where I was involved in process development for the manufacture of emulsified products. I came to the topic of food process engineering during my master's degree, which I completed with my master's thesis on the production of starch-based aerogel particles. Since August 2017 I have been doing my doctorate at the LVT in the field of spray drying of emulsions.

Main areas of research
Milk protein based emulsions are the basis of a variety of powdery products such as coffee whiteners, creamer and baby food. Spray drying is a common process to produce storable powders from emulsion-based systems. The structure of the dried product is responsible for the properties of the dissolved food. Therefore, it is important to know and control the influence of spray drying on this structure. In my research I consider the effect of process and formulation parameters on the resulting structure of the emulsion after atomization and spray drying.

Methods
Atomisation tests can be carried out at the institute's own spray stand, which enables online measurement of the spray droplet size distribution by means of laser diffraction spectroscopy and sampling of the atomised emulsion. A pilot plant spray tower with up to 20 kg water evaporation is available for drying tests. For the characterization of the emulsions and the powder produced, common analytical methods such as laser diffraction, light microscopy and rheometry are used.
Journals

| title | date | authors | reference |
| --- | --- | --- | --- |
| Production of starch aerogel in form of monoliths and microparticles | 2020 | Baudron, V., Taboada, M., Gurikov, P. et al. | Colloid Polym Sci (2020) online available |
| Influence of the Emulsifier System on Breakup and Coalescence of Oil Droplets during Atomization of Oil-In-Water Emulsions | 2020 | Taboada, Martha L.; Leister, Nico; Karbstein, Heike P.; Gaukel,Volker | ChemEngineering, 4, 47. (online available: https://www.mdpi.com/2305-7084/4/3/47) |